Select the category that interests you: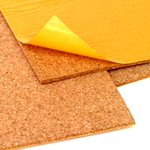 Do you need a corkboard with easy and quick assembly?
Self-adhesive cork tiles are an original and practical solution, making simple and quick assembly of the cork pin board in any place possible. In order to achieve this effect, we combined our cork notice boards with a special layer of strong and durable adhesive.
With self-adhesive cork boards, all you need to do is carefully peel back the protective film protecting the adhesive coating and press the stopper firmly against the selected substrate. Therefore, you do not need to look for a specialist, worry about the selection of glue or look for drills and proper pegs. Since the adhesive used is very strong, cork board sheets can be applied both on smooth and slightly rough surfaces. For a successful assembly, the substrate must be completely dust-free, clean and dry. Therefore, it is vital to carefully and accurately prepare the surface for assembly, that is, grounding or thorough cleaning. You should apply the large cork notice board very carefully, because the adhesive immediately binds with the substrate and it is no longer possible to adjust the position.
Plaster-coated or painted walls, concrete, brick, glass, plastic or furniture board are the optimal substrates for the self-adhesive cork tiles. Other surfaces are also suitable on condition that their surface is clean and smooth. Self- adhesive cork boards are produced in a fine, medium and coarse version. The fine grained cork board wall will be useful in many types of production, the medium cork pin board will make an excellent cork notice board, and the cork in the coarse grain will be ideal for protecting you against excessive noise and cold. Read the description of the category for each type of grain if you are still hesitant which grain and thickness will be the best to suit your needs.
The self-adhesive cork tiles are not a standard product. Each time we make them specially for you, following the order you have placed. in compliance with the thickness, grain and quantity you request. We fully customize and tailor cork products to your preferences. Hence, think carefully before you place an order because, unfortunately we will not be able to accept a refund from you if you change your mind later.
Add to Basket, payment, delivery... but when will I receive my order?
We are doing our best to make cork materials purchases in our shop as easy, safe and simple as possible. We accept various forms of payment: cash payment to the courier, by bank transfer or credit card. Packed in durable and thick cardboard, cork products are delivered swiftly by FedEx Express. We always make sure that the ordered products are in stock so our packages are delivered in most cases within 48 hours from the order confirmation. In case you need to set a particular or faster delivery date, please contact us or Sales Team to confirm the possibility of such delivery before making a purchase.
What mistakes to avoid?
You must bear in mind that natural cork is a product that is very sensitive to changes in humidity. The sheet will shrink with humidity drop. Due to changing conditions during warehousing and transport we recommend that the natural cork is rested for 48 hours in the same conditions it will be installed. This will prevent from creating any gaps between the sheets. Doing so is especially important during winter and autumn seasons, when cold and moist cork is delivered to a warm and dry space. That is why any natural cork purchases should be done with a few daysí notice to be able to prepare it correctly and, at the same time, avoid additional costs and unnecessary stress.
Looking for cork for different purposes?
Medium grained cork board sheets are excellent for making any surfaces to pin information, announcements, bulletins, photos etc. to. Great aesthetic, high elasticity and high shatter resistance make medium graded cork ideal for wall notice boards, information screens and display cases. Coarse grained cork sheets are also a great mean for thermal insulation. When fixed on the wall or ceiling it offers acoustic isolation and eliminates all the sounds coming from the other side. 40 million cells full of air in every cubic centimetre means much more warmth in the apartment and no more high gas bills. Our self-adhesive cork tiles have a variety of applications. Just use your imagination and creativity. Our wide offer of cork products meets different requirements of our clientele. Just spend a little time to get to know our cork products better and enjoy the shopping!