Cork underlayment for flooring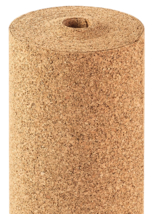 Looking for the highest-quality product offering acoustic isolation and thermal insulation for every type of floating floor?
Cork underlayment for the panels is the best solution for you as it ideally eliminates sounds during its usage and thus offers a greater level of comfort. Its longevity and durability is increased by eliminating small faults in the surface under the installed flooring. Being so durable, we guarantee that the insulating cork underlayment will survive definitely longer than the floors themselves also making them warmer, quieter and more comfortable.
Even though it was manufactured with the same technology as the cork in rolls, lower density and less porous structure to enhance the insulation properties was achieved by mixing the granulated cork with natural adhesive. When a support of higher density is required and when rubber cork underlay is used, a portion of rubber regranulate is added to the mix of cork granules.