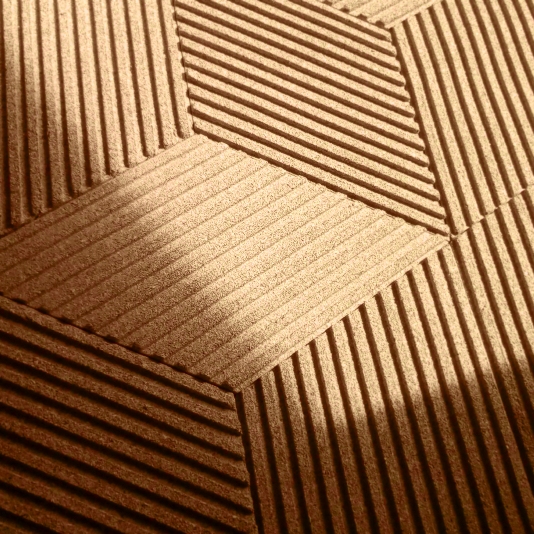 What are 3D cork tiles?
Decorative 3D cork wall tiles are a unique example of original, yet minimalistic design. These natural cork panels, manufactured with the highest degree of precision and diligence, will be perfect for every interior: an office, a commercial building and a housing estate, adding a touch of uniqueness, sophistication and cosiness and to any design.
What inspired us to create them?
Nature has always been and will be the inspiration for our current and future products. Everybody is astonished by its uniqueness, timelessness and durability. The tiles' shape, which is well thought out, allows you to install them in the same direction and create symmetrical patterns but you can also arrange them in a completely different way to build unique compositions. Designer 3D cork wall covering is 100% environmentally friendly. All cork wall panels are made of sustainable and renewable raw material which can be recycled and is completely biodegradable, namely natural cork.
What technology is used to make 3D thick cork tiles?
We select cork waste left from the production of wine stoppers to manufacture 3D cork wall covering. During a complex forming process, moulded in a suitable cast, granulated cork mixed with ecological binder takes its final shape. The final product is neat and durable as the final product is neat and durable. It is not only practical but also looks fantastic.