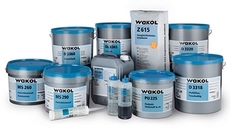 What is the best adhesive glue for cork tiles?
Price is not the only factor worth considering when choosing an adhesive for cork tiles - it is also very important to pay attention to such aspects as the ingredients of the adhesive, producer's reputation, way of application and safety of installation and further usage. Only a good, ecological and safe cork adhesive glue offers a 100% guarantee that the cork panels will be installed properly and professionally, and make the fixture a piece of cake.
Durability, quality and safety guarantee.
Installation of natural cork and years of experience in sale have allowed us for an objective selection of the glue for cork manufacturers. In our store we offer only tested, safe cork glues of the highest quality that we ourselves use during cork panel installations. Wakol D3540 is a strong, ecological and extremely easy to use cork glue adhesive made with latex- acryl dispersion. It may be used for gluing all types of cork products to both absorbent and non-absorbent surfaces. We especially recommend it for installation of wall, floor, insulation and technical cork panels. All technical, decorative, floor and expanded cork sheets can be easily fixed with our cork glue adhesives . It can also be used for gluing any type of cork items, such as flooring, decorative or joint strips, cork models and rubber cork.
How to glue the cork properly?
It is essential to prepare the surface properly before gluing - it has to be dry, quite even and clear of grease and any other contamination that could hinder the gluing process. Very dusty surfaces have to be primed first. As Wakol D3540 has the consistency of a very thick liquid, it is best to apply it with velour roller with short hair. An even layer of glue needs to be mixed thoroughly and applied carefully both on the bottom side of the cork and on the surface it will be glued to. The quantity of glue used should create a thin but tight cover. Then it should be left for drying. Once the glue becomes completely transparent, you can glue the cork to the surface. Be careful, as the glue binds instantly. Consumption: 200g per SQM (2.5kgs is enough for around 12 SQM of cork).