Natural decorative cork bark wall tiles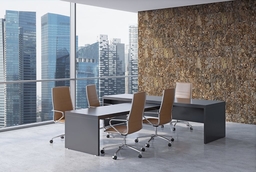 Originality & uniqueness from cork bark at your fingertips!
Looking for an original finish for your living room or the bedroom ? And how about a new and ecological interior design for your restaurant or office? Or maybe you are just looking for a spectacularly natural and beautiful lining for the terrarium? The decorative cork bark is the answer to all of the above, and more.
New line of Virgin decorative cork bark tiles follow the fashion and trend for pursuing the most ecological, natural and environmentally friendly and, at the same time, unusual finishing materials. Solid cork bark panels from raw cork oak tree are an original, designer and 100% natural and ecological product. Untainted, cork bark has been glued on a flat layer of agglomerated cork.
Like all cork wall panels, apart from their decorative advantages, they also enhance the acoustics and thermal insulation of the room, significantly increasing the comfort level. Virgin decorative cork bark is in 610x915mm format, is 25mm tick and weights 4 kgs. It has a variety of applications, e.g. it is an ideal and original home, restaurant, office or shop interior decor, and also it can be used as a decoration for terrariums and aquariums. If you are bored by the omnipresent classical wood, ceramics or cold glass, choose a timeless and stunning material. Every cork oak wall covering is 100% unique, designed and created by nature. If you want to impress other people with your taste, choose cork sheets, which will transform the interiors and make them look more refined.
Decorative cork oak wall boards are an extremely practical solution, if apart from an unconventional wall decoration you are looking for a way to warm-up and sound-proof the interior. Wall cork panels will be a perfect solution for any interiors exposed to noise and stains, such as rooms, lobbies, waiting rooms and corridors. Cork bark is also a perfect aquarium and terrarium décor and it will provide a great hiding spot for its small inhabitants, such as reptiles, amphibians or fish and make them feel at home. As it is completely waterproof, safe, handy and easy to cut, you will not need to worry about your pets.