Rubber cork roller coverings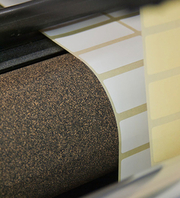 We specialize in
cork rubber tapes
for print, production, cutting and rolling of foil, paper and other bendable materials. It is the simplest and the cheapest way to increase peripheral strength and stability and decrease the tension and skid on the material.
Self adhesive cork rubber coverings
are a great roller coating in laminators, printers, cutters, etc. The use of rubber cork covering increases significantly the friction between the material and the roller.
If you still have any doubts whether our product will suit your purposes, do not hesitate and contact us now! Owing to our vast experience and a number of satisfied customers from many lines of business we will be able to us assess if the
rubber cork covering
tape will meet your expectations. You are always welcome to take advantage of our knowledge and professional guidance not only when placing an order, but also during the installation and further usage of the product.